3rd World Pigeon Expo and Congress
Check the World Pigeon Expo website for more details and a site map of the convention center's booths and supplier kiosks.

Among the exhibitors in the Pigeon Expo 2016, are NewTree, your one-stop shop for livestock and poultry supplies, renown for their Hi-Flyer and Sky High Pigeon Flyer and Breeder Mix used by local champion pigeon racers. Get your hobby supplies from them at the Expo. See you there!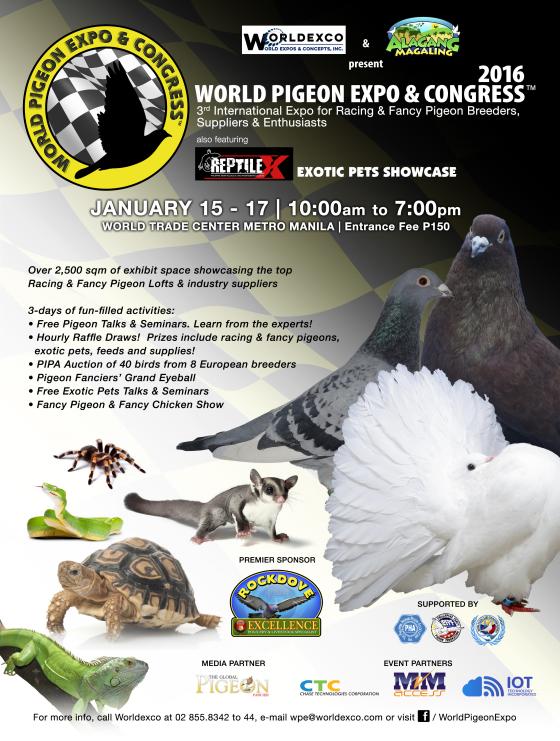 SCHEDULE OF ACTIVITIES

Friday, 15 January

9:00 am - Opening Ceremonies

11:00 am - Alagang Magaling TV featuring Pigeons and Exotic Pets


Saturday, 16 January

10:00 am - Feature on Fancy Chickens / Malaysian Serama

12:00 pm - Pigeon Talks with the Big 3, Neil Cruz and other experts
Topics include:
• History of pigeon racing
• The Pigeon Industry
• The establishment of the PHA and other clubs
• Challenges in the industry - loft management, common diseases, training and conditioning, other issues

2:00 pm - PIPA Auction of 40 birds from the following breeders:
Batenburg - Vd Merwe (Netherlands)
De Vroe - Van Gaver - Vane Putte (Belgium)
Geert Van Rentergem (Belgium)
Geoff Cooper (United Kingdom)
Jelle Jellema (Netherlands)
Mark Gilbert (United Kingdom)
PEC - PIPA Elite Center (Belgium)
Rutz and Sons (Germany)

6:00 pm - Alagang Magaling Kalapatids Grand Eyeball

Sunday, 17 January

10:00am - Reptile Talks

1:00 pm - Fancy Pigeon and Fancy Pigeon Show, Judging & Awards


- See more at: http://www.reach-unlimited.com